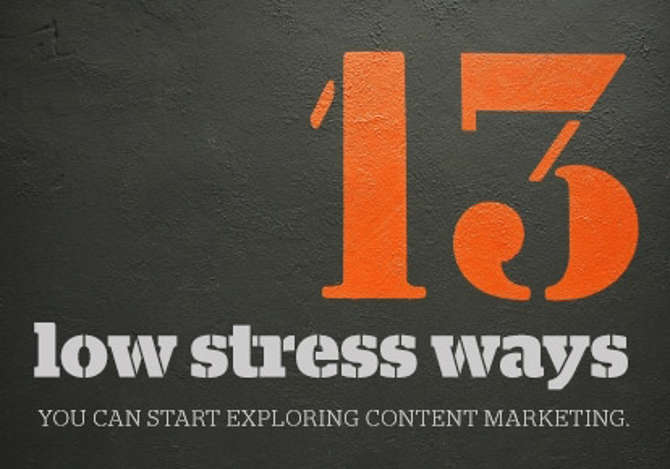 We've learned a lot about the importance of content marketing in 2012. In 2013, it will only grow in importance.
Even if you're still not convinced or you're still not creating compelling content, you can bet your competitor is. Why let them walk away with your business? You can start content marketing today!
Starting a content marketing campaign can seem intimidating. How do you even know where start?
Here are 13 low-stress ways you can start exploring content marketing.
Something is better than nothing. Doing anything related to content marketing—truly, anything—is the first and most important step.
Blog, blog, blog. Are you not blogging? Why not?
Enable all of your content to be shared, tweeted, liked, etc. This is virtually effortless but makes a big difference. Make your content do more work for you.
Take advantage of what you already have. Use your social media platforms to promote your content. Place links in your email signatures, send relevant stories to customers, refer readers to your site through your newsletter.
Find out where your customers are, and create content that reaches them where they already are.
New, fresh content is worth way more than the boring content that legal approved four years ago. Freshen up your content!
Avoid marketing blather. Visitors want genuine, human conversation—not cold, forced, anonymous corporate communication.
Tell the story of your company and brand. Invite your employees, clients, and customers to join you and do the same. Using their personalities and their networks, they can become ambassadors for your brand.
Don't be afraid of engaging in constructive conversations through content marketing—it will only improve your products and services as well as your relationship with your clients and customers.
Welcome criticism and foster a dialogue—and then work hard to improve your offerings.
Talk to your sales team and customer service team to find out what questions, issues, problems, and ideas customers and prospects have. These insights can help you create great content that specifically speaks to your audience.
Show the human side of your company. Don't hide behind an impersonal, faceless corporation.
Let the world know that your company is filled with cool, unique people who are awesome at what they do.
***
You can use any or all of these ideas to start content marketing today. What do you think you might try first? Tell us about it—and ask us how we can help take your content marketing to the next level.