Over the weekend, some of the Aztek team made the drive down from Cleveland to Pittsburgh for the annual Pittsburgh TechFest. TechFest is a one day event highlighting software and web development in the western Pennsylvania region.
The varied sessions covered coding, agile methodology, project management, and a wide-range of development stacks. Check out the notes below from our favorite sessions.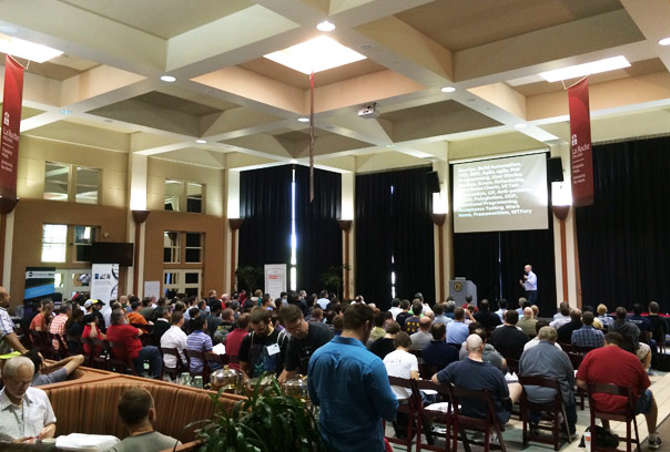 Robots that Love Ruby – Josh Gretz
An intro talk to highlight the possibilities of hardware/robots responding to software/Ruby commands
This session reinforced the idea that messing around with Sphero, Arduino, and Raspberry Pi are not only fun but also are a great way to think critically and programmatically about things like order of events.
The above technology is on the lower end of the cost scale (all are less than $100) and are worth at least a look for anyone into programming/development.
Testing Agility - An Agile Look at the Role of the Modern Test Engineer – Jared Bill
An agile look at the role of the modern test engineer
Testing and development teams should not only be on the same page but should try their hardest to work together
Testing teams should consider pairing with developers and vice versa so that the two teams can get more of a feel of what each other does
Potential Pitfalls of User Stories – Danielle Verba
Perspectives on what is wrong with the widely used user story format
Common misconceptions regarding user stories
Pitfalls of user stories; Definition, Form, Organization, Personas, Scope & Action
The Internet of Things is Here, But Don't Be Scared - Hans Scharler
ioBridge founder Hans Scharler discussed what the IOT means to developers
Hans started by creating a toaster that tweets https://twitter.com/mytoaster
IOT means multiple devices for each individual are hooked up to the internet, making it larger than social
Even simple sensors have the ability to rely valuable data to the internet
IOT creates a huge opportunity for analytics and development companies
Creative Tinkering – Josh Sager
This was an inspiring session on spending time to hone your craft outside of your work environment
The presenter had us spend the first 5 minutes of the talk introducing ourselves to someone we didn't know, and discussing some cool things we are working on
Spend time outside of work messing around with side projects, and reap the benefits
In a short period of time the presenter was able to spend his free time to learn new things, expand his knowledge base and skill set to create a job for himself doing a lot of what he was just working on for fun
Agile People - Jay Anderson
A talk about where individuals fit into an agile environment.
The DDI leadership discussed the transition of their company from waterfall to agile.
The things we hire for are often not the things that make someone successful in an agile environment.
Agile relies on people feeling responsible for the outcome
Placement and development of employees is key
Unretrofittable: Start Your Project Off Right – Chris Winters
Everyone loves a new fresh project, don't undervalue this opportunity
Choose data structures that will aid further development
Have you asked, "What will help your users love what you do?"
Pittsburgh Tech Fest Overall
TechFest is a truly affordable (only $10 admission!) event with 50 plus presenters. The varied sessions alone make this a deal. Hosting the TechFest, at La Roche College campus, north of the city also makes for good facilities and easy parking.
Did you attend PGH TechFest? We'd be interested to know what you thought.