If you're only using YouTube as a place to watch funny cat videos or find the latest underground band, you're missing out on its benefits as a powerful business tool to enhance your brand and strengthen your social outreach.
There are tons of resources available about YouTube and how to use it to maximize your brand. But we wanted to share a quick and dirty snapshot about one specific aspect—the benefits of brand channels. 
First, the basics 
If you're still wondering "Why YouTube?" check out these stats: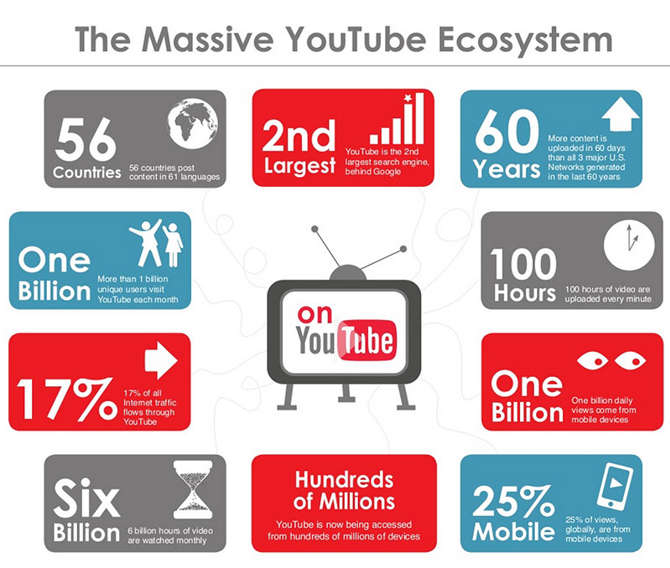 Now That We Have Your Attention...
YouTube offers three types of channels:
User: Most basic type, Analytics are provided for the videos, customization is limited to background colors and images.
Branded: Offers capabilities to create a more customized experience for users than the basic user channel.
Custom Branded Channels: This creates a site-like interface, but unless you have the budget of a Fortune 500 company it's probably not happening.
YouTube's One-sheet Guide on Brand Channels [PDF] provides more detail.
Should You Set up a Brand Channel on YouTube?
You shouldn't set up a brand channel just for the sake of setting one up. But, you should if you have a clear strategy with goals and objectives-- Oh, and some videos.
If done right, there are many benefits of setting up a branded channel. We share three of these below.
A brand channel:
1. Creates a consistent experience for customers and prospects 
Having a branded channel on YouTube allows you to customize the appearance of your page, providing a more consistent look and feel from the website to the channel by incorporating banners and background images. You'll be able to create additional tabs for custom content sections. And, a branded channel also increases opportunities for optimization efforts which can help your company become more visible.
YouTube is the second largest search engine next to Google. The tagging feature on YouTube allows you to tag keywords for each video, and these tags communicate to the search engines the subjects of your videos. YouTube also offers its own Analytics so you can monitor visits, best performing videos, etc.
2. Expands social outreach
YouTube integrates easily with other social media platforms like Facebook, Google+, Twitter, Pinterest, and Tumblr. The links to these channels are included in the brand banner so users can easily access additional content.    
3. Cross promotes your website
YouTube videos can be embedded directly on your site, essentially hosting the video through YouTube and easing the strain on your website's bandwidth. Using YouTube to host your videos also allows the content to be searchable on your site as well as YouTube.
Here's a great example from Sephora's YouTube channel (notice the social media icons and clearly branded banner):

Okay already! How do I set one up?
Good news: making a branded YouTube channel is easier than you think. Here are a couple resources to help you get started:
Oh, and one last thing. Don't forget to optimize your channel and videos for the best results!
Uncover more about your own digital presence with our assessment.
YouTube Statistics Image Credit: So Media