You Don't Matter
It's true. We like you, but we don't care about you. We care about the people who are using your website, purchasing your products, and calling your help line. These are the people who help you achieve your business goals, and we want to get to know them better.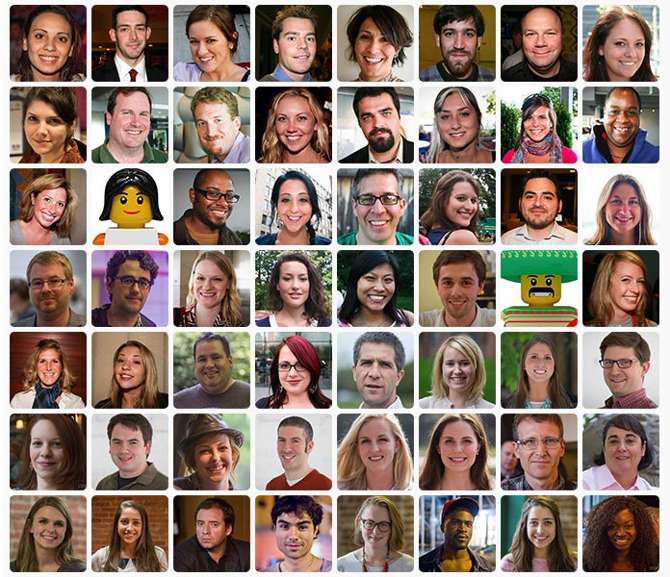 Maybe you've heard your web team refer to these people as your "users" or "visitors." Companies will spend time researching, interviewing, and collecting data on these people to find out how they behave on the web. The qualities, characteristics, goals, and behaviors of these groups of people will become the basis for your personas.
But Wait, What Is a Persona?
The term persona means different things to different people, so it's important to ask what it means to whoever you're working with.
Personas are a research-based combination of common demographics, behaviors, goals, and challenges for a specific group of your website visitors or customers. When completed, a persona may look something like a LinkedIn profile (except that it's not a real person).
Keep in mind that personas are used as an internal tool, so most businesses do not make their personas public. But some do. MailChimp for example.
What's the Story Behind Personas?
Alan Cooper started using personas in the 1980s to help empathize with the users of the software he was developing. He realized that he could group users together with similar goals, tasks, and skill levels and then use that information to support his project recommendations. This practice of using personas was publicized in Cooper's book, "The Inmates Are Running the Asylum."
Now you can find tons of articles and blog posts written about personas. However, to help you cut through the fluff and give you a comprehensive understanding of the topic, we share three blogs written from different perspectives in the industry.
What you'll notice is that everyone has a different way of describing and building personas, but in all cases, the process will help you learn more about your visitors, customers, and/or users which is never a bad thing.
1. Personas 101: What Are They and Why Should I Care?
by Elastic Path
"Personas are fictional characters based on actual observed behaviors of real users a UX professional experiences in the field, talking one-on-one with users." Laura Ballay, User Experience Manager Elastic Path
Written from the user-experience context, this blog post focuses on how personas apply to the overall experience when a person uses a product (such as a website or computer application). Real-world observation is stressed as well as asking the right questions. Learn about what personas are not, additional benefits, and how to observe your users.
Read the full article on Personas 101.
2. Personas: The Art and Science of Understanding the Person Behind the Visit
"Personas are a method of market segmentation wherein we collect a combination of qualitative and quantitative data to build archetypes of the members of our target audience." Michael King, Moz
This one might take you awhile, so grab another cup of coffee. You can learn everything from the basics to how to incorporate analytics to enhance your understanding of personas in this in-depth post by Moz.
With many real-world examples, the focus is on collecting data and using that information to help structure your personas.
Be sure to use the table of contents to navigate through the full post.
3. What Is a Buyer Persona? Why the Original Definition Still Matters to B2B
by Tony Zambito
Tony Zambito is a strategist that focuses on business to business (B2B) user research. This blog post looks at the definition of a buyer persona from 2002 and how it still applies today in a more advanced digital age.
Tony focuses on the story of the buyers- the who, what, where, when, why, and how that leads to a deeper understanding of their needs and behaviors online.
Read the full article and see how Tony uses the 5Ws + H in user research.
Benefits of Personas
"A major virtue of personas is the establishment of empathy and understanding the individual who uses the product." Donald A. Norman, NN/g
When used effectively, personas can help
Build empathy for the user
Develop focus and priority for project tasks
Form consensus across teams
Guide decisions from a user's perspective
What does that mean for you?
It means that visitors will be able to find what they're looking for on your website. That your customers will be able to find answers to their common questions so they can make a purchase decision. And that your web team will be able to make faster, more informed decisions to move your project forward.
Types of Persona Development
Just like there are different considerations for what a persona is, the type of persona you develop will depend on your goals for the project, and the resources you have available. Again, if you ask me, any effort spent on user research will be beneficial to a project.
Yeah, I've Got A Budget For That
Hooray! Seriously, that's awesome. Go for full-fledged personas created by a company dedicated to user research and persona development. These personas will be
Limited (or No) Budget
Consider using provisional personas created internally or with your web agency. (We'll talk about how to develop provisional personas in part two.) These personas will be
Based on internal assumptions and second-hand data.
The result from brainstorming with those who have a deep understanding of current audiences (customer relations, HR, service positions, etc.).
Evolving as you continue to learn more information.
Are personas necessary?
Great question. And the answer is of course not. But, they can be very helpful.
Personas are a tool that can be used to help build empathy for users and create alignment on project goals. Creating them is not the goal, the goal is to use them to better understand user behaviors, and to inform project decisions now and into the future.
Samples users images from: Random user Generator