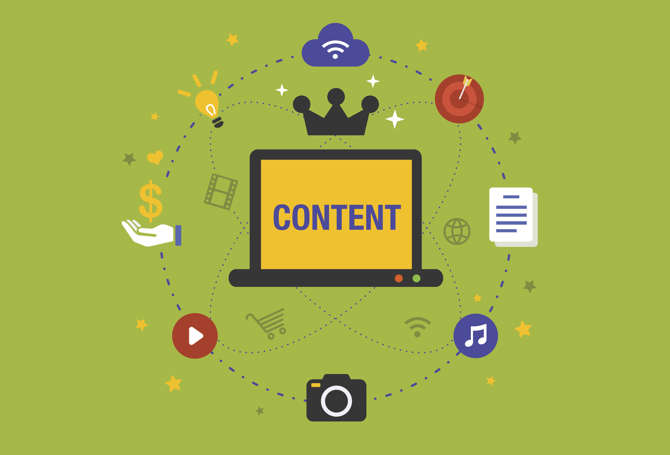 The incredible thing about the internet is that there always seems to be resources at your fingertips. The trick is wading through it all to find what's valuable. To help with this, we have decided to do a monthly round up of articles, blogs, videos, etc. that relate to content marketing, strategy, SEO, and anything else we find interesting.
Here are some of the resources we found valuable this past month:
What we liked: The way the article is broken up is a perfect way to explain how to plan for content strategy. There is a lot that goes into a content strategy, but many times the amount of both time and work is overlooked. The author does an excellent job of breaking down how the overall process should go. We like the suggestion to start with a strategy, after all, a content-first approach makes projects go much smoother. As the author mentions, knowing what your audience wants and needs makes figuring out what content to create much simpler.
We also like the no-nonsense approach to this process. There will be bumps along the way when restructuring. Or in some cases, like completely overhauling a website, it's important to take those bumps in stride and know there is a light at the end of the tunnel.
Favorite quote: "There are many obstacles during this construction phase. After all the work putting together the strategy and the plan, it's easy to get sucked back into business as usual. Don't get waylaid in Procrastination Lane. Be prepared for hold ups in Nightmare Team Mews. A new digital platform is a change project, so be prepared for a bumpy ride."
Incorporating the value: The article is focused on having a process for content, which is something we can't argue with. This article follows a similar path that we do here at Aztek, while some companies may choose to proceed down this path themselves, we love helping clients down this road and working together.
What we liked: It's important not just to focus on the content marketing work we do day to day, but also how we complete that work. We can all agree that how we complete our tasks during the work day can always be tweaked, this article did a wonderful job of calling out some of the main things we all struggle with and how to work on them.
Favorite quote: "You can't expect to change years of working habits overnight. Small changes in how you work can gradually add up to big changes in productivity."
Incorporating the value: Taking even just one suggestion from this article would be valuable to anyone who has a more "traditional" desk job- like working on content. At Aztek, we have started encouraging each other to stand at our desks more. We made this into a competition to see who could stand for 20 minutes each hour. This way, it helped us create a habit of standing more often at our desk and encourage other healthier habits.
What we liked: The focus on content in this article was spot on, but what we liked, even more, was the notion of promoting that content. It's important to work to have good content, but if that content is not promoted we are not maximizing the benefit of it. Content and marketing have to work together so that both can be successful, and this article did a great job emphasizing that point.
Favorite quote: "Generating content for content's sake produces minimal ROI. Instead, we have to be doing this in a structured manner so that we are attracting people who will ultimately go on to become valuable prospects, customers or hires for the business."
Incorporating the value: Many times clients will understand one piece of the collective whole of content strategy and marketing, but what this article does is point out that without planning, good content creation, and marketing working together, you are really setting yourself up to be less successful. This is a concept that we try to explain to our clients, having an understanding of their users, creating content for those users, and then promoting that content is the way to a successful digital campaign.
It seems that the theme for two of the articles this week was understanding users. Doing this will help not only with the strategy for content but the creation and marketing of that content as well. This is something that Aztek strives for, we offer user testing for clients to gain insights into how their users are using their site and viewing their content. These insights then lead to more useful content and an overall more useful website.
As for the third article, here is a reminder to try out a new work habit, like making a to-do list. Take a moment to take a deep breath (no really, try it right now), and take a stroll or two during your work day today.
Interested in any of the services we talked about in this article? Contact us here, we would love to work with you.