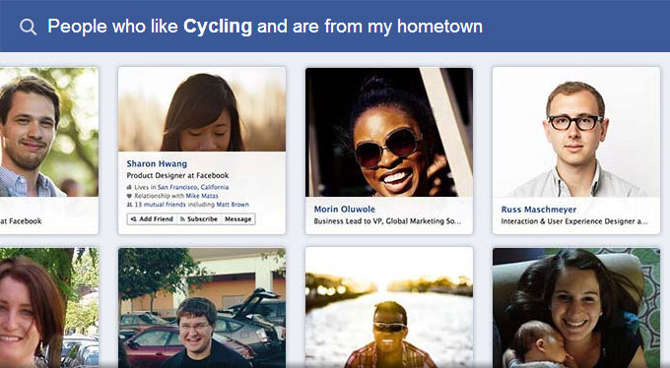 Facebook recently made a major announcement about a new expanded search feature called Facebook Graph Search.
Before I get into the ramifications of this announcements, here's a brief overview of how Graph Search will work.
A user logs in to Facebook and performs a search within Facebook.
The search bar returns top suggestions.
When the search suggestions are clicked, users are taken to a unique search results page.
The search results page will show Facebook results in one column.
Depending on the search, the user may also see Bing (Facebook's search partner since August 2008) results in a separate column.
There are no new ad units with this update, but Facebook did say that Bing Ads would appear in both columns. More on this later.
Graph Search is still in beta and is only available to a small selection of U.S. users, but you can bet it will grow. This game changer has the potential to completely shake up the established norms of organic search, paid search, and social search.
The Ramifications
The impact of this change is far-reaching.
Facebook Users
Graph Search presents an opportunity for people to use the web in a more meaningful way. Facebook gets a lot of grief (rightfully so) about how they handle their users' privacy. Why? Because they have so much of our personal information. I have no doubt that privacy concerns will arise as we adjust to Graph Search, but for now, from a Graph Search perspective, this amount of information can be used to generate highly relevant results. And that only serves to benefit Facebook's users.
Google
Google lives and dies based on search result relevance. Blended search results, personalized search, and Google+ are just a few examples of Google's attempts to use personal information to generate more meaningful search results. But the major disadvantage they face is that they simply don't have as many users—or as much information about their users—as Facebook does. In other words, they can only guess what's most relevant, while Facebook knows what's most relevant.
Combine that with the fact that Facebook already gets 1 billion queries per day, prior to Graph Search launching, and it's not hard to see that Google is facing a very serious threat with this announcement.
Bing
Since August 2008, Bing has been Facebook's search partner. If more people use Facebook Graph Search, Bing is going to get a lot more exposure, which presents yet another threat to Google. Bing Ads will now show up in Graph Search results. Facebook has a billion users. That's a lot of potential ad clicks and a lot of revenue for the #2 search engine.
Facebook Shareholders
Early analysis shows that there is great potential for Facebook to make a lot of money with Graph Search because Facebook will get a cut of the revenue generated from clicks on Bing Ads. In fact, one analyst from Cantor Fitzgerald said that Graph Search could be Facebook's next billion dollar idea. In other words, Facebook might ultimately prove to be a good investment.
Businesses
Last but certainly not least is the impact that this will have on businesses who promote themselves on the web. It's no secret that the web is becoming a more social place and that the most successful businesses generally have a strong marketing focus around their website and social media properties like Facebook. But if Graph Search takes off as much as the analysts expect, business owners had better make sure they're doing the following:
Get serious about optimizing your Facebook Business Page
Per Facebook, make sure you have the basics covered. This means the page name, category, vanity URL, and content in the "About" section must be completely filled out.
If you have a location or local place page, update your address. Doing so makes it more likely you'll show up for local searches.
Start sharing content directly to the page. Don't pull in updates via RSS feeds. Don't rely on other third party tools to get images and videos onto your business page. Upload these assets directly to Facebook so that they are more likely show up for photo and video-related searches.
Focus on improving your page's connections. Sure, the number of likes your page gets will probably have an impact on the Graph Search rankings, but you need to keep the engagement levels up. Pages that are stale will be less likely to show up in results. Keep your fans engaged and your rankings will benefit.
Invest in Bing
This one is simple. If you aren't pursuing a PPC campaign with Bing Ads, now is the time to do it. You're missing the potential to reach one billion users if you don't!
As you can see, this is going to be a big change in the way we do things on the web. And while it may yet be some time before those changes are felt, are you doing what it takes now to get your business ready for Graph Search?