If your customers speak French, would you write the content for your website in Russian?
Successful websites speak the language that their customers understand. These sites make it as easy as possible for their customers to find the information they seek and to process the information in whatever way is most helpful to the user.
Websites face a lot of competition for the attention of their audience—from unrelated sites and from direct competitors. In many e-commerce verticals, multiple online outlets sell identical products. Product manufacturers frequently determine how much a reseller can charge for a product, and this price is immutable. So, if two different internet storefronts are selling the same product for the same price, what makes a user choose one reseller over another?
User Experience
Websites must give their customers the best possible experience. This includes optimizing the site for social media sharing. Enabling visitors to share information about the brand with their network and allowing visitors to customize the way they interact with a site enhances the user's experience.
Pinterest is a social sharing site that enables users to create pin boards of things they find on the web. Users 'pin' items that they find from all over the web to their boards. Users organize their boards around themes and they share their boards. These boards serve as inspiration, facilitate planning, and influence purchasing behavior.
Pinterest is one of the fastest growing social media outlets. During the month of March 2012, there were a total of 104 million visits to Pinterest, making it the third most popular social media site (after Facebook and Twitter). Those visits were performed by 19.7 million unique visitors. Pinterest users spent an average of 405 minutes a month on Pinterest—the same amount of time they spend on Facebook.
If this many people are using Pinterest—and making decisions about purchases via Pinterest—wouldn't it behoove brands to optimize for Pinterest use?
Pinning Down Purchasing
A Pinterest user is planning a kitchen redesign. She is performing research online—investigating different options for cabinetry, flooring, and appliances.
This user has a Pinterest board where she is assembling all of her ideas for the new kitchen. This cache of knowledge is how she keeps track of what she has found and where she found it. Her board helps her to share what she finds with her family, and will enable her to click directly back to the items that she decides to purchase.
She is interested in a new, high-end blender for their home. She discovers the Vitamix Pro 300 Series Blender, and she is impressed with the capabilities and features of the blender as well as the brand reputation. Although she has pinned a dozen other blenders, she wants to make sure she remembers this one.
She begins to pin the blender, but then notices that the product page doesn't have a "Pin It" button.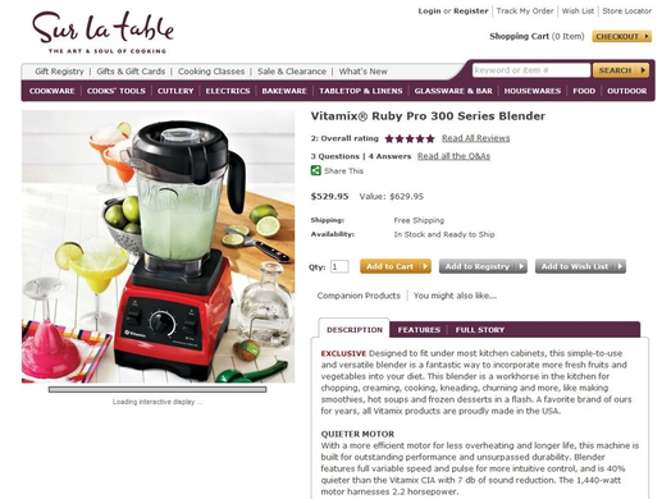 Undeterred, she attempts to use the Pinterest button on her browser to pin the item. When she clicks Pin It, however, the item she wants is not pinned. Instead, the site brings up a page with a large number of photos.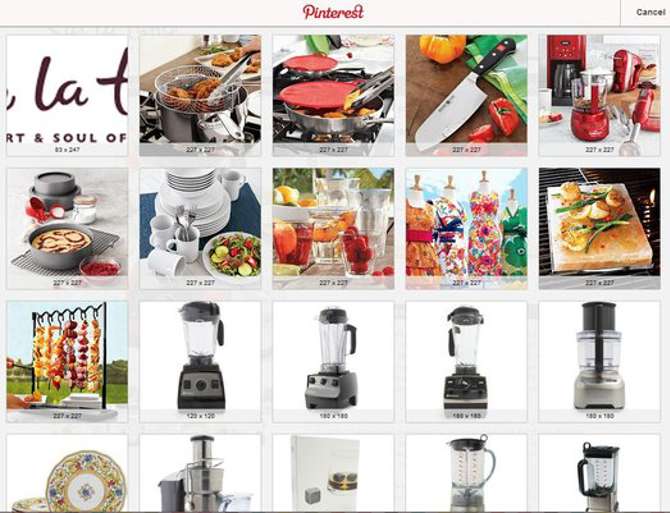 Annoyed, she opens a new browser tab. She searches for the blender by name, and sees that a competing retailer offers the same item. After navigating to the page, she discovers that the blender is being sold at the identical price as the last website.
She also quickly sees that this product page offers the capability to pin directly on the page.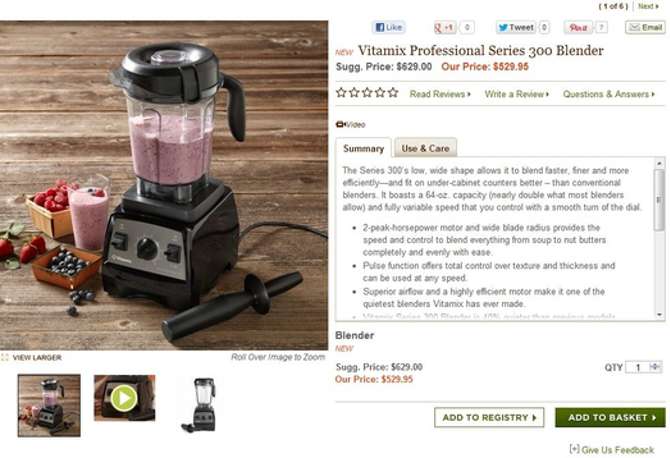 She pins the item, and is pleased to see the correct item pop up. The pin even includes a description. She pins it to her kitchen board.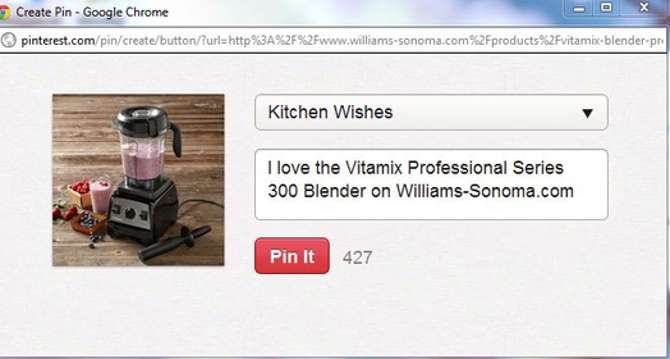 After pinning the blender, she then moves on to researching floor tiles. Later that week, she is ready to buy her blender. She checks her board, finds the Vitamix blender that she wants, and she clicks through and buys it from the second site. The first retailer lost a hefty sale, all because their site didn't offer the functionality that the user wanted.
Speak Your Customers' Language
The obvious lesson here is that e-commerce outlets can increase their value to customers simply by optimizing their products for use on Pinterest and related services. But the larger take-away is relevant to managers of any kind of website.
Optimize your site for the way that your users want to interact with your information. Make sure your site accommodates your customers and meets their needs.
Give your customers what they want.