TRG Reality is one of the finest photo shops around. Their intensely talented creative team creates photographs, CGI, composites, motions, and videos that have to be seen to be believed. Their images are of such a caliber that it's often impossible to tell how an image was made: was it photographed? Was it created? Is it an amalgamation of both?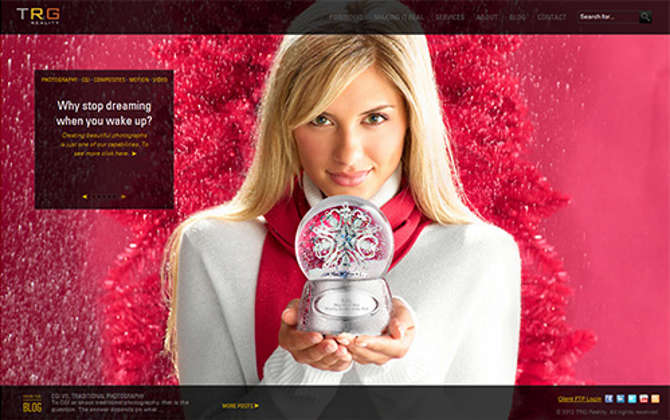 TRG relishes these questions. They're all about exploring the boundaries of burgeoning technology, and challenging viewers' perceptions of what is 'real.'
When TRG came to Aztek to discuss their website redesign, they knew what they needed—a functional, dynamic site optimized for iPad display; and what they wanted – a beautiful site that perfectly framed their work. Aztek was just the right shop for the job.
Aztek recently redesigned trgreality.com. It went live and immediately began getting attention. Aztek's primary goal was to let TRG's art work speak for itself, and it does, loud and clear.
TRG's website features modern, cutting-edge of web technology. The site looks great, no matter what sort of device is used to view it. And the design showcases the spectacular work, while subtly providing support and structure.
The TRG website represents a perfect combination of surpassingly excellent artwork and photos; progressive, professional development; and sharp, effective, attractive design.
We asked the people most directly involved in creating the new TRG website to share some insights into its creation and execution. Participating in this Q & A are Adam Wilde, studio manager at TRG, Keith Rowe, chief technology officer at Aztek; Dave Skorepa, chief creative officer at Aztek; and Josh Brown, senior graphic designer at Aztek.
What were the goals for the new website?
Our goals were to do a better job of showcasing our work and to use the website as more of a sales tool to explain the complexity of our capabilities.
Adam Wilde, TRG
As it pertains to the development side: Provide TRG the ability to easily update, organize, and present their client work in the portfolio section, Format the site and layout for mobile/iOS devices, Enable TRG to easily build custom portfolio entries for the clients and provide them customized URLs, and Combine their blog and their web site under one roof.
Keith Rowe, Aztek
The largest was to be able to use the site as a sales presentation tool—specifically on an iPad. TRG sales reps are able to create a custom portfolio for just one prospect by selecting only the portfolio entries they think their prospect will be interested in. They can then provide that prospect with a private link to view their custom-prepared portfolio.
Dave Skorepa, Aztek
The goals were to build a site that focused on TRG's portfolio, and that would work equally well on a desktop computer and an iPad. They needed to be able to use the site as both their online presence and a presentation tool when pitching new clients.
Josh Brown, Aztek
What were the special considerations or special requirements for the site?
We needed the site to be completely functional and be relatively fresh and exciting without the use of flash so our prospective clients could view it on an iPhone or iPad. Additionally, we wanted to be able to create customized portfolio blasts to send to prospective clients using a hidden portfolio function of the website.
Adam Wilde, TRG
Mobile and IOS, so finding a balance between load times, images, and at the same time, keeping one "site" for all frameworks.
Keith Rowe, Aztek
Had to be updated by non-technical staff. So the site handles the resizing of images, the creation of extra images sizes (such as thumbnails), and does not require the admin to apply formatting or HTML.
Dave Skorepa, Aztek
1. Get rid of Flash. The old site was built using Flash, which is pretty much a deal breaker when it comes to Apple mobile devices. They don't support Flash. Which leads us to.

2. HTML 5. Since we knew the iPad was going to be a major delivery platform for this site, why not take advantage of the fact that it supports the new HTML 5 spec? We did not ignore older browsers, though. The site still works and looks great in IE8 and even IE7.

3. Full screen. TRG has all this amazing photography, why not show it off as much as possible? The home page and all the portfolio pages use a combination of CSS and jQuery to fit the photography to the full width and/or height of the browser window. This also means the content had to flow to fit the bounds of the browser window. My monitor is quite a bit larger than an iPad screen, but the site had to fit both perfectly.

4. Dynamic portfolio management. Keith did a great job with the back end, building a Content Management System (CMS) that allows TRG to update their portfolio whenever they want.& One specific thing they asked for was the ability to create custom portfolios for pitching clients. They can log into the CMS, create a custom client portfolio, and cherry-pick the projects they want to appear in it. It then generates a new URL for that portfolio that they can send to prospective clients.
Josh Brown, Aztek
In terms of design, how was the approach to this website different than others?
We concentrated very hard on making sure our design "got out of the way" of the stunning work of TRG. Their work needed to be the hero at all times. We wanted users to focus on the images, not what we had designed to house them. Our design had to be there and not be there at the same time.
Dave Skorepa, Aztek
Most of the time, the general layout for a site is a central column between 970 and 1000 pixels wide that scrolls up and down, depending on the amount of content inside it. For this site we wanted to keep the header bar with the logo and navigation at the top of the browser window, and the footer bar with the blog excerpt and the other footer content at the bottom of the browser window, and the content to scroll between them. Also, we wanted the screen layout to "flow" to fit the bounds of the browser window; normally we build fixed-width sites where the content column is always a certain width no matter what your screen resolution. None of this is revolutionary, but it is different from the majority of sites that we build and it required some additional research, planning, and testing.
Josh Brown, Aztek
Do you consider the website to be a success? In your opinion, what is the best facet of the website?
For sure, I enjoyed working with Josh on the portfolio section. The "pretty photos" and the presentation work together very well.
Keith Rowe, Aztek
Absolutely it was a success. The site has accomplished all of the goals we set out at the beginning and then some. My favorite part is the way the portfolio images shine through. Their work is so strong and I think it really comes across on the new site.
Dave Skorepa, Aztek
Yes, absolutely. The site looks great on all the platforms we've tested it on, and I love all the little additions we made, like the fade-in/fade-out effect when you click to a new page, or the expanding panel on the portfolio page when you want to read the project details. I think the best facet is the full-screen photos on the home page and the portfolio project page. I'm a fan of big photos, and these look great.
Josh Brown, Aztek
Are you pleased with the new website? What do you like about it?
Love it. We have gotten nothing but compliments on it. I think it showcases who we are and what we do in a very beautiful yet efficient manner.
Adam Wilde, TRG
Were your goals for the new website met? How will the website help your business?
We understand that the main viewer of our website will likely be directed there by a sales associate. From this thinking, we wanted to make sure that when directed, the website could be used as an ultimate sales tool. It showcases our work, details our process, and explains the more technical aspects of our capabilities that a client not familiar with the industry might not understand.

The customizable portfolio will prove to be invaluable as well. If we have a client that is strictly interested in automotive, we can access a hidden back end portfolio and pull out multiple automotive images, not actually featured on the site, plug them into a portfolio page and send a link. It allows us to really connect with prospective clients.
Adam Wilde, TRG
Has the experience of creating this website taught you anything that will be relevant for future projects?
Keeping tablets and other mobile devices in mind for the layout and functionality was crucial for this project, and I think the end result works very well (on both pc and mobile). This is a good showcase for future projects that shows it can be done without having to create separate sites for the different platforms.
Keith Rowe, Aztek
We always try to learn from our projects. This one in particular let us take some chances and pushed us to incorporate some new things we don't normally get to incorporate. We're very thankful to TRG for trusting us and listening to us even when they were a little out of their comfort zone. It takes a very special client to do that.
Dave Skorepa, Aztek
Making the leap to HTML 5 for this project certainly was valuable experience, and also making a full screen, flowing layout. As viewers move more to tablets and other mobile devices that are smaller than traditional monitors but larger than smartphones, I think we're going to see more sites like this, and it's good to know how to make them work.
Josh Brown, Aztek