"How'd You Get Here?"
About two months ago, I was in the market for a new internship. Being a Cleveland local, I decided that I would poke around online and see what I could find. My goal was to find somewhere I could learn, expand my skill set, and hopefully have a little bit of fun while I was at it. I stumbled across Aztek's website and filled out a contact form. Pretty soon this lead to an email from Aztek's CCO himself, Dave Skorepa.
Turns out, my timing couldn't have been better, because Aztek was in the final stages of preparing their internship program. After a few emails back and forth with Dave, I interviewed and got my official offer letter in the mail a few days later. I was all set to start on the first day of spring semester, and I was equal parts nervous and excited.
The First Day
My first day at Aztek was definitely intense, but it was also a learning experience within itself. Aztek uses what's called the Agile method of development, which basically means that the focus of our work is to be as productive and transparent as possible. What this meant for me, among other things, was adapting a bunch of new collaboration technologies, and setting up my own devoted wall of sticky notes (the people at Aztek love their sticky notes).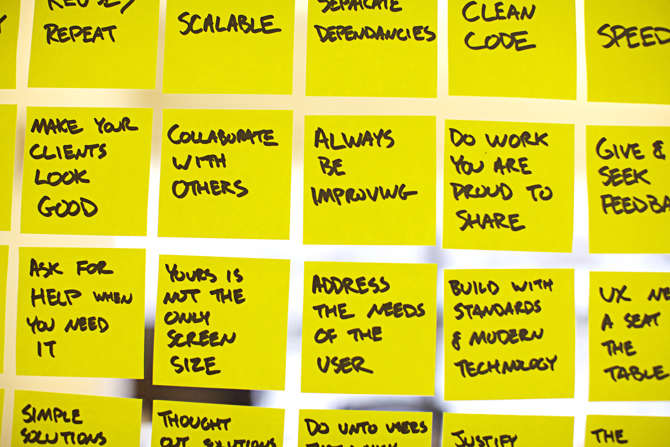 I was off and running from day one, testing some of our ongoing projects and getting myself set up on collaboration tools like Jira and Confluence. I even had a dedicated new employee board on Trello, complete with cards about office etiquette, my coworkers' contact information, and how being Agile works.
"So What Do You Do Here Anyway?"
I got lucky being the first intern, in that I get to sort of dip my toes into everything. We have a team for each of our services, including website design, development, and digital marketing. Some days I work with the development team to pick up some new skills in C# using Visual Studio. I've also taken my first foray into Photoshop working with the Design team, and I'm in the process of getting BrightEdge and Google AdWords certified with the Digital Marketing team.
I have a much better understanding of the everyday terminology used in the industry. I've gotten to sit in on phone conferences with clients and sprint reviews. Each day I have something new to learn about or work on, and that's exciting!
A typical day for me really isn't very typical. For example, in just one day, I:
created banner images for our blog in Photoshop with one of our web designers, Josh.
added content into a Content Management System for a new website.
built a contact form with one of our senior developers, Frank.
learned about keyword research with one of our digital marketing specialists, Jake.
One of the most common things I do as an intern is to perform quality testing on the websites we build, making sure each site performs as users would expect. If any issues come up in testing, I log the details and assign it to a designer or developer to fix before it goes live.
"Why Aztek?"
One of the most unique things about Aztek is the people who work here. It's almost overwhelming how much everyone knows about everything! The people here are always willing to teach me a new skill or share something they've experienced. We regularly have what we call "Lunch-N-Learns," which are basically miniature presentations on a particular concept or skill. I've attended some of these about sales, the MVC framework of development, basic CSS, and HTML structuring for web pages.
As someone that came to Aztek without much formal tech experience, it's pretty cool that I get to work on so many diverse projects. A typical way people at Aztek collaborate is with what's called "pair programming," where two people work together to solve a problem or fix something. This makes picking up new skills so much easier and has helped me learn a lot in just under two months.
With all of this being said, I'm even more excited for what I still have left to learn. So, if you're looking for an internship, keep an eye out for the next opening at Aztek!
0