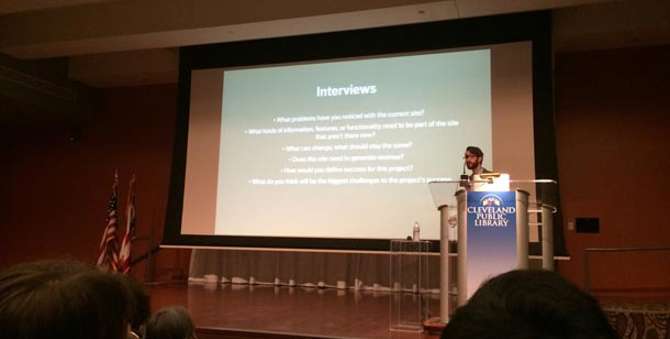 The aztekweb team returned from Rustbelt Refresh this year excited (and a little overwhelmed) with all the great ideas flying around. This event was unanimously one of our favorites in recent memory. The speakers and topics were top notch and the event is extremely well run. Here are some bullet points from each session collected from our team:
Content in a Zombie Apocalypse - Karen McGrane
There is a 'zombie apocalypse' of new devices and screen sizes our content needs to adapt to
Don't just 'shovel' content on pages
It's very possible that web-enabled TV is the next big way to consume web pages. I should spend some time doing all my personal web browsing on my TV to see how good or terrible it is.
Stop thinking about web content as "pages"
Start thinking about how to make content work on ANY device. For example, wearable devices like "smart watches" may also be the next thing. How will sites work on those devices?
Don't think of content as "blobs", but instead as "chunks" - more rigidly structured and categorized

PDFs are an example of the worst kind of "blob" content

When planning a project, use content modeling

"Create Once, Publish Everywhere"
What kind of content is it? Not a "page" or a "carousel", but things like articles, FAQs, coupons, etc.
Consider the attributes of the content. Example: recipe

Kind of content is "recipe"
Attributes could be chef, season, ingredients, techniques, etc.

Karen hates PDFs as much as we do and was very blunt in reminding people that "NOBODY IS READING YOUR PDF"
"Every browser since the dawn of time has rendered emphasis as italic. Not in an audio interface, they don't!"
Important to realize an audio output of your text content will be consumed and experienced differently.
"We have to give up this shared hallucination we've been living under, that we have any control."
"Whatever the next big thing is going to be, we are going to have to figure out how to get our content on it."
Seems like what we need is a sort of "Content Markup Language". I'm patenting ".cml"
Working Closer to the Medium - Matt Griffin
I didn't take many notes for this session, but it was more or less about wireframing and "designing" directly in the browser to save time and code, and to get away from the pixel-perfect Photoshop mode of designing.
Front end design has moved away from the PSD mock up and into a collaborative browser based process
New web solutions require an iterative process that involves collaboration with client and web team
Front end starter kit - https://github.com/beardedstudio/stubble
A good question to ask when starting a project: How would you (the client) define success for this project?
Matt shared a lot about their project process, particularly around kickoff meetings and early deliverables.
The idea of doing wireframes in the browser from a "stater kit" makes sense. I'd like to see us move away from 3rd party wireframe tools.
Shepherding Unicorns - Jen Myers
Apprenticeships in the web can be a great asset to start a career, more than just an internship. Take an active role in the students development.
The best way to learn is often to teach, this still applies to design and development
Mentors are sorely needed in this industry
The Developer's Ampersandwich - Jenn Lukas
Deliberate Performance - Tim Kadlec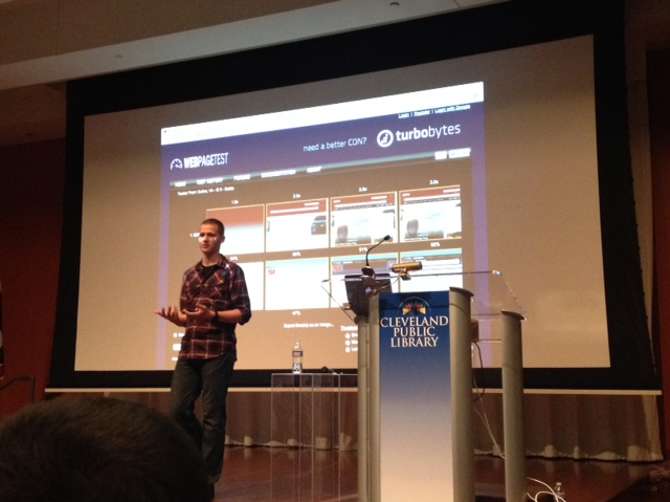 Fat bloated sites are increasing in size yearly, 38% more in size last year
Set a performance budget that limits size of pages and stick to it
Amazon increased sales in the millions a year ($157 million) by speeding page loads up 1%
Tim is a great champion for web performance in our industry. 
Performance should be "baked in", not done later; because you'll never go back and do it later.
Performance is a design consideration. Poor performance leads to unhappy users.
You need a 20% change in performance for users to notice the difference. So if a site takes 5 seconds to load, you need to trim it down to 4.
Lack of performance = lack of planning
Be a performance masochist
Pre-optimization is better than post-optimization
This talk exposed the challenges of interactive story telling without the use of old standbys like Flash. 
Slide files are here: goo.gl/R4NRbx
Start simple, use standards based html and css as a backbone
The first website made is responsive (makes you wonder if your work will be future –friendly this long)
When you remove your complex JavaScript and other advanced code does your site break? Can your users still get content?
As websites get more complex developers need to resist overtly complex solutions. Keep the logic as simple as possible.
Keith challenges the idea of web apps and closed system apps as being the only option. This limits the true power of the web as an open continuum.
Why create hacks for older browser that don't support the new features? If they don't support it, they don't need it.
Read "A Dao of Web Design" by Jon Allsopp
Now more than ever, progressive enhancement is important and necessary
HTML and CSS are fault tolerant; Javascript is not

Web sites should not be dependent on JS to work. See Instagram with JS turned off.

Even layout is an enhancement
If a browser doesn't support a feature, don't try to make a hack to give that feature. Use "Aggressive Enhancement".
Use feature detection, not browser detection
Support every browser, but optimize for newer ones.

It is not our job to make a site work perfectly in IE8. It is our job to educate people not to use an old and broken browser.

Does a website need to look the same in every browser? NO.
If you are stilling hacking sites together to get it to look right in IE8, you're part of the problem.
Postel's law: Be conservative in what you do, be liberal in what you accept from others http://en.wikipedia.org/wiki/Robustness_principle 
What's a Web App? A website that doesn't work when JavaScript is turned off."
I move that Jeremy Keith should be made "President of the Web"
We'd like to extend our thanks to the folk who organize Rust Belt Refresh, especially for keeping such a high quality event in Cleveland. We can't wait for next year.