Whirley-DrinkWorks! is known as a supplier of novelty cups for a variety of businesses. What's not as well known is their ability to share industry expertise and develop strategies for earning more revenue through these programs.
Consulting on How To Grow Business (And Get More Refills)
They advise on how to get more refills, what designs work for what businesses, and what plastics are the most safe. They are true consultants on how you can use this purchase to make more money or save money in the long-run.
With the redesigned website, we emphasized this business insight while keeping the whimsical, fun brand. We highlighted industries for people to self-select and developed content that addressed the audience's needs.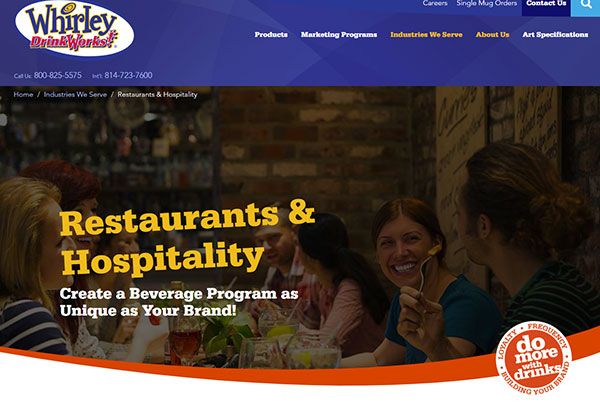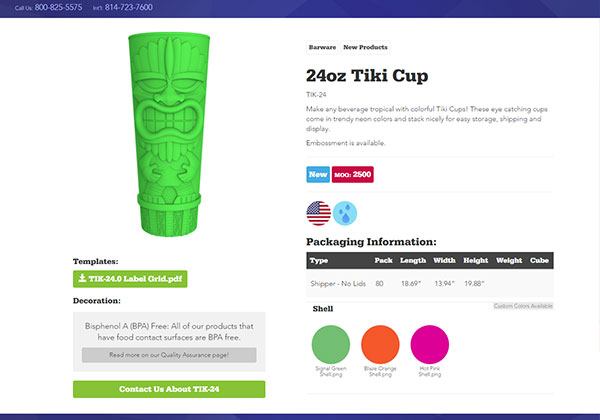 Sales Staff Can Find Products Quickly
The website is frequently visited during meetings to showcase products. So we created a searchable feature with filters and tags based on industry, type of product, and business needs.
These can all be managed in their content management system (CMS). Before the new website they were managing all this information in a giant manual database (yuck).
User-Friendly Content Management System: Umbraco CMS
We used the Umbraco CMS with custom built content blocks so Whirley can edit content or products without altering the design on the page. Our goal was to make it friendly for the audience with a focus on content and site speed.
project components
Every project is different and requires a range of components to accomplish the goals. Here's what went into this one.

Responsive Web Design

HTML5

CSS3

Umbraco CMS

Microsoft .NET

SSL

SQL Server

3rd Party Integrations
the results
To be considered successful, every project must meet or exceed its goals. Here's how this one is performing.
+48%
Average time on page for three months after new site launch compared to same time previous year.
-4%
Site speed. The website was optimized to load faster and improve user experience.
"Aztek team, On behalf of my team at Whirley-DrinkWorks!, I wanted to sincerely thank you for all the hard work you put into our new website. You made our vision a reality, and we're very happy with the end product. We appreciate you always working with us on our deadlines and making it happen. It's been great working with this highly-skilled team, and we thank you for being so responsive and easy to work with throughout this process."
Dominica Luzzi - Marketing Communications Specialist