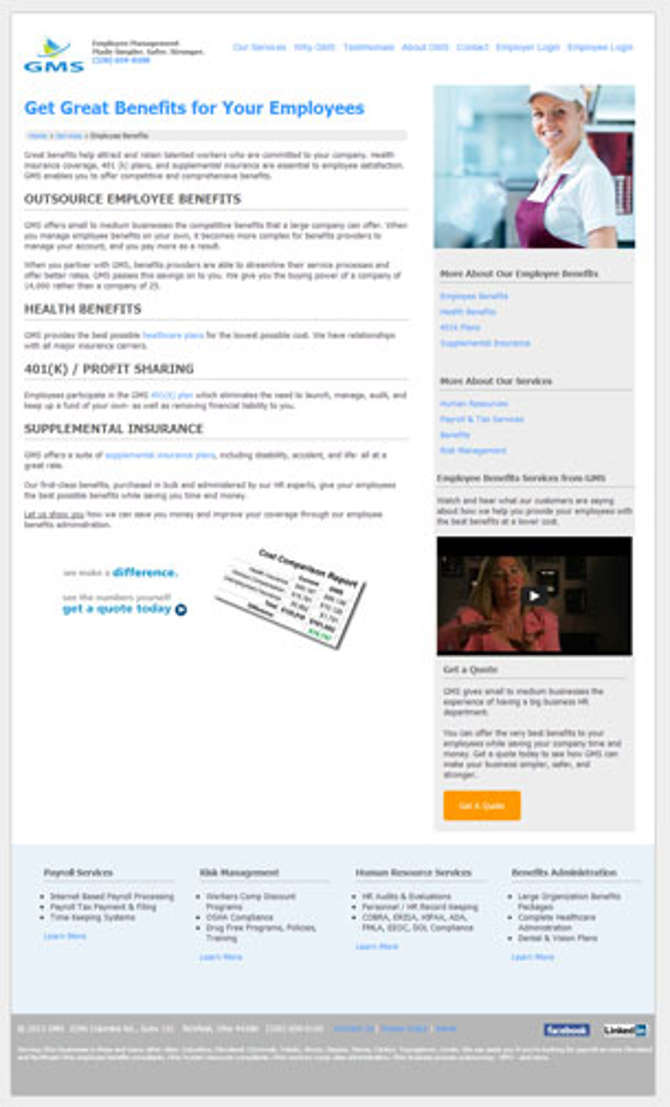 So you're a company that provides a great service. This service is proven to save your customers time and money. But your target audience doesn't fully understand your service or, even worse, they don't even know that your industry exists. To make matters more complicated, your website doesn't reflect the high level of quality that you provide to your existing customers. What do you do to grow?
Consider web marketing.
That's the route that Group Management Services (GMS), a professional employer organization, took last year. And since then, the number of quality leads through the web has significantly increased.
Aztek determined that the GMS website was ineffective. There wasn't clear branding and messaging, and calls-to-action weren't sufficient.The user experience was limiting the amount of leads that came through the website. The site generated about one lead or inquirey per month.
Aztek launched a comprehensive Content Strategy and SEO campaign. New keywords were identified and targeted, and the content was completely rewritten. Conversion optimization, improved site functionality, and a design refresh capped off a bold campaign.
The results are impressive.
In the 12 months prior to the web marketing campaign, GMS received six website leads and closed one.
In the six months after the web marketing campaign, GMS received ten website leads and closed two.
Aztek's Content and SEO campaign for GMS doubled leads in half the time.
The full case study offers more details and explores how web marketing leads close at a higher rate than the overall company average.
***
If you're a business owner or marketing manager and find your business's growth stuck in a rut, have you considered content marketing and search engine optimization? As you can see, it works!