A good landing page is unique; in fact it has to be. Each landing page should be specifically designed for the function it serves. While there is no magic one-size-fits all formula, there are some best practices that can drastically increase your chances of success.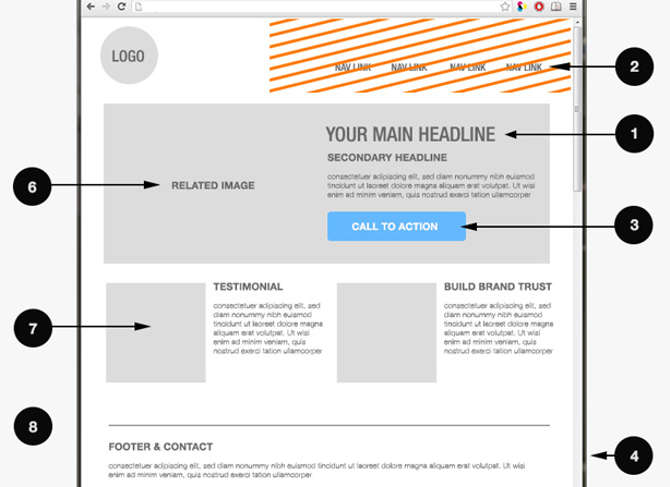 Here is a list of tips that Aztek uses to make a winning landing page. If you're looking for even more information on the design process, we have drawn up a simple but helpful diagram.
What is a Landing Page?
A landing page is a page on your site dedicated to delivering on promises made in your content or in an outside ad. The goal is to encourage your user to take another step toward becoming a customer or fulfilling the direct task of the landing page. Landing pages are often an element of Pay-Per-Click advertising.
The most important part of creating a landing page is identifying your goal. Make sure your design and content make that goal as clear as possible for users to understand.
One quick point before getting into the tips: your home page is not a good landing page. Instead, send your visitors to a page where they will be asked to do something specific. The homepage is a great place for users to begin browsing, but generally it's not the best place to generate action from the user.
Landing Page Tips
Have a clear call to action.
When running an ad campaign, the main goal is to convert prospects into customers. Driving users to a targeted landing page is often a planned step toward this goal. A good landing page should be designed to make a prospective customer take action. Clarity in your messaging and a strong call to action must be part of the plan.
Simplify design.
Simplicity. It is the word of the day for web designers, and it should be a goal for landing pages. Our goal is to remove un-needed distractions and minimize unnecessary information.
Keep your font styles, colors, and sizes on your page consistent.
Remove excess images and bandwidth-heavy media.
Only ask for information you will absolutely need, and reduce form fields if possible. Having 400 questions is one of the quickest ways to lose an interested user's patience.
Remove excess navigation. If you are directing traffic to a page for a targeted reason, stick to that reason.
Make it available on all devices.
Make sure your landing page renders properly and is sized correctly for all viewers. Variability in screen size has never been higher. Your users are using mobile phones, and mini tablets, and tablets, and computers. Can your message be seen everywhere it needs to be? If not, responsive design may be an option to increase conversion. The web is changing, but getting your content to users that need it is still the goal.
Is your brand trustworthy? Is it clear to users that your company is a good choice for them? Show them testimonials from respected customers and include relevant certifications or credentials. Help your customer feel comfortable about providing information or completing the desired function of the landing page.
Test, then test some more.
There are many elements of a landing page that can be tested, including the use of an illustration, multiple tabs, number of bullet points, and much more. These elements can all be tested and tweaked to help you achieve the best results.
Do you A/B test to validate your decisions? A/B testing allows you to perform simple comparative campaign studies. You can discover which designs and messaging perform the best. Your testing can be tracked by adding simple code snippets to your landing pages. Including this code ensures you are recording the fundamental performance metrics for each campaign:
Conversion rate
Bounce/abandonment rate
Form completion rate
Landing Page Template
This helpful diagram includes some of the items Aztek focuses on with each landing page.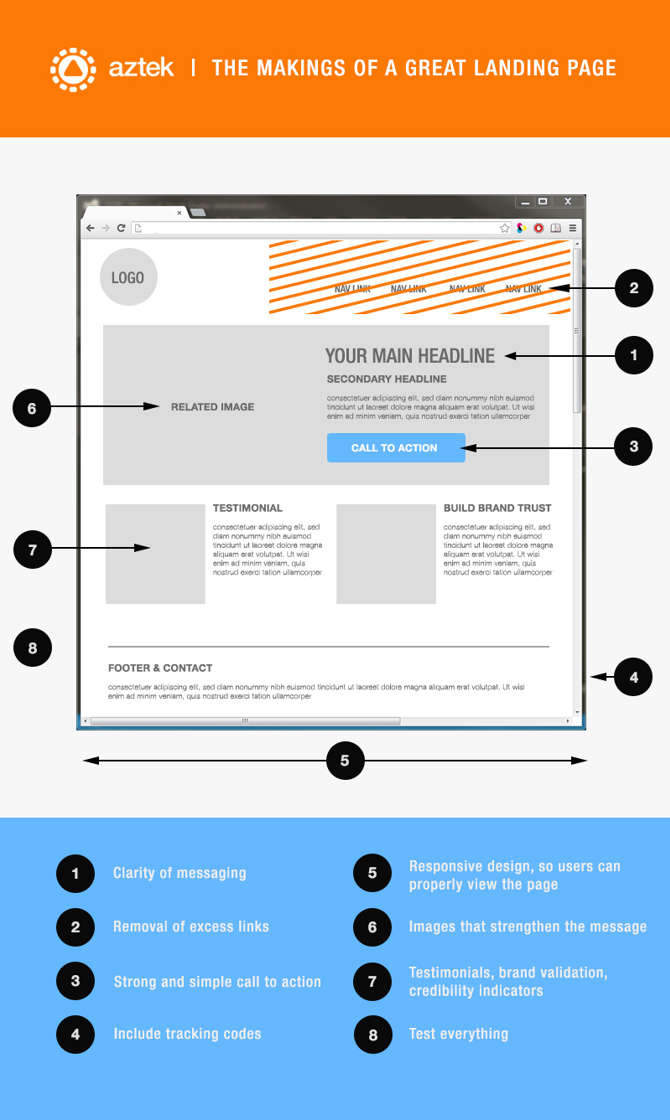 Thanks for taking the time to read through these pointers on landing page design. Want to learn even more about Aztek's landing page process and website optimization? Contact us today!