Never mind the Ravens — the big winner at the Super Bowl last Sunday was the Oreo® cookie.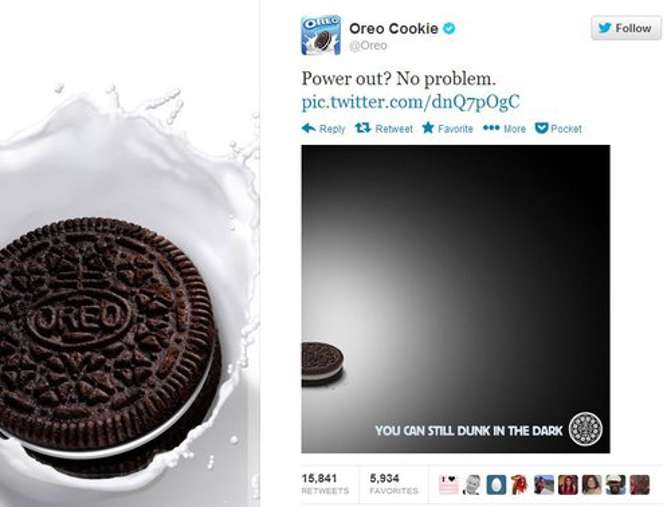 During the championship game between the Baltimore Ravens and San Francisco 49ers, a blown fuse at the beginning of the second half led to a half-hour blackout.
The crowd at the game and the audience at home continued what they had been doing all evening—tweeting as much as possible. On Super Bowl Sunday, more than 24.1 million tweets took flight. Beyonce's half-time show and the blackout prompted the biggest frenzy of tweets, both in quantity and in the number of tweets per second.
Amidst the furious flock of tweets, the nimble response of one marketing team took it to the end zone. Oreo tweeted an ad featuring a photo of an Oreo on a dark background. The tagline on the ad reads "You can still dunk in the dark," and the accompanying tweet declared "Power out? No problem."
The tweet was an instant hit. It was timely, topical, and fun—and it was posted extremely quickly after the blackout began.
The tweet would be retweeted almost 16,000 times and favorited by almost 6,000 people.
The Nabisco Oreo team and 360i, their agency, had a "mission control" set up at the office during the game. They had team members and resources ready and waiting to be responsive, and so they were able to capitalize on the opportunity. Best of all, they had key decision makers in the room, meaning they sought and received immediate approval.
This facilitated a post that made the most of a moment that was being shared by billions of people around the world. Since they were positioned to quickly respond, they succeeded.
There's a lesson here for organizations of any size and any marketing budget: be agile. Use your best judgment to identify potential opportunities for communication, and then have policies and processes in place that enable your team to respond swiftly. Be ready to be part of the conversation.
And, equally important—be ready to enjoy a cookie at a moment's notice.