The dust hasn't settled yet for Vine, an app released by Twitter in January. It's still young enough that marketers (advertisers and brand ambassadors in particular) are figuring out how to use it, as its popularity soars. It's currently the top app on the iTunes store.
The app allows you to film six second videos. You read that right: six seconds. Reactions I've seen have gone from "This is a fresh revival of an art form!" to "This is really stupid."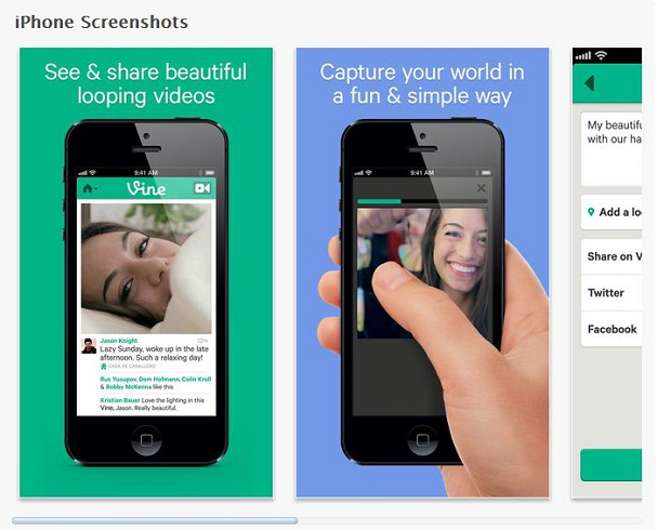 <h2
As an app native to Twitter, Vine functions very well. The length of Vine clips are in line with the short format found in the rest of Twitter. They also offer the much-esteemed auto-play privilege that Instagram recently pulled. This is a big factor in the survival of social media properties that intend to survive on Twitter, and may go far in helping distinguish Vine over other video-sharing apps and programs.
The looping, six second videos resemble internet-and-meme-friendly animated GIF images more than anything else. There's really not a lot of room to push a complex message in these videos; but someone watching Vine videos posted by your brand might already be familiar with what your brand is about.
Vine enables audio that's recorded, but there is no voiceover option yet. In the future, maybe? I'm also surprised that Vine doesn't have some basic color or style filters to flavor these videos.
Vine and the Movies
Many of the brands that have started using it are using Vine to summarize/show footage from events, release behind-the-scenes clips, and play micro-advertisements. The first (of many?) movie "trailers" for Vine recently appeared.
Off the Vine Rack
Apparel brands seem to be adapting to the new platform particularly well, from both branding and product perspectives. Check out these simple clips from Urban Outfitters and Gap for examples of what I'm talking about.
Urban Outfitters
All. Of. The. Shoes. #shoes #urbanoutfitters vine.co/v/bpJWhWErFiL

— Urban Outfitters (@UrbanOutfitters) March 18, 2013
Gap
Best way to end our #TumblrxGap #SXSW showcase is with @macklemore. vine.co/v/bdxXv9aMLlw

— Gap (@Gap) March 16, 2013
Part of a Larger Campaign
I've played around with the app myself and can see why it's fun; but to be fair, I'm easily amused and anything resembling stop motion moviemaking would be something I'd have a lot of fun with.
Vine has its place as part of a bigger web content campaign. It's a good "digestible" way to show people a snippet of the great content you generate (you do, right?). Anything that can be turned into a good visual can be made into a Vine clip quite easily.
Do you use Vine? If so, how and why?
Image from Vine on the iTunes Store.