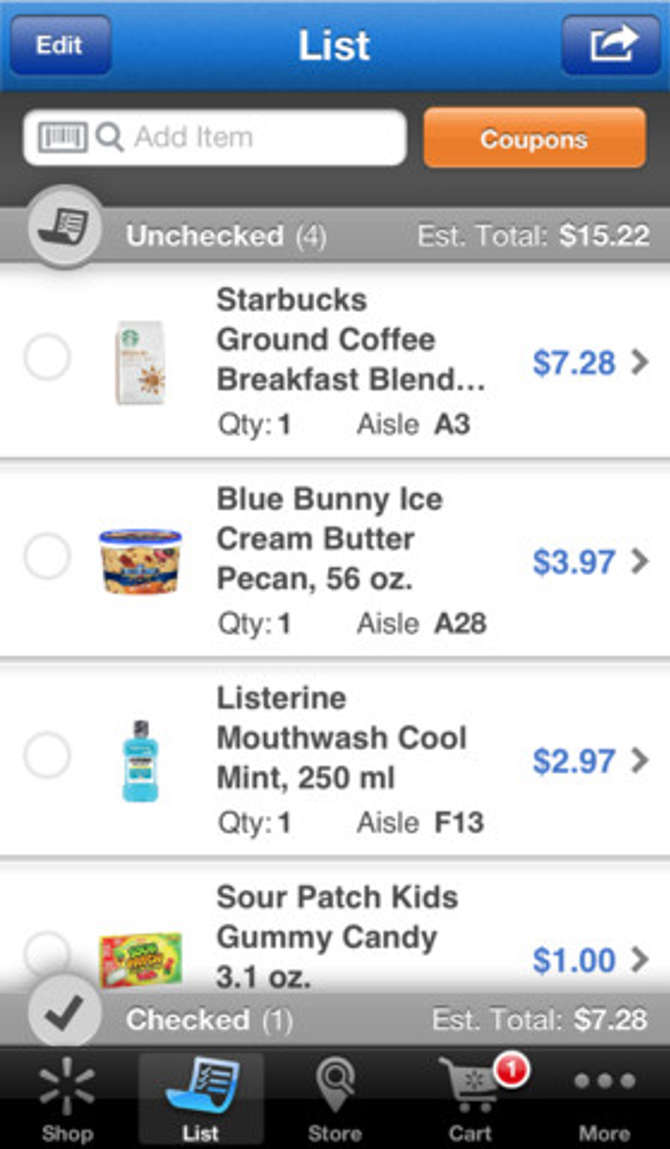 Walmart has been named 2012 Mobile Retailer of the Year. Yes, the big box retailer we all know for their cheap prices and crowded checkouts has been a pioneer in mobile innovation.
Companies in every vertical can learn from Walmart by thinking about the ways they could implement mobile in their overall business strategy.
Last year, Walmart launched numerous mobile initiatives that include improvements on their mobile app, QR codes, push notifications, etc. In addition to offering typical mobile/local features that consumers can use to find the closest physical store location, Walmart made life easier for their consumers in so many other ways.
Some of my favorites are:
Walmart consumers can use their smartphones to search for coupons and deals before going to the store itself. All available discounts, sales, and coupons are automatically applied to appropriate items.
Consumers can assemble their grocery list at home and know how much they will spend even before going to the store.
Once in the store, Walmart consumers can use their smartphones to find out which aisle has the products they are seeking.
My favorite solution is the app called Scan & Go. The app lets consumers scan store items with their iPhone and wirelessly transfer the list at the self-checkout lane. With this app, Walmart consumers can bag their groceries while they shop and, more importantly, they don't have to wait in the checkout line.
With these incentives, Walmart is utilizing the power of mobile to its fullest. They use various capabilities that mobile devices offer and created a real value for their customers. In short, Walmart demonstrated how a thoughtful strategy can improve customer satisfaction. And customer satisfaction always has a positive impact on revenue growth.
Mobile Technology Brings Value
With Walmart leading the way, every single company should think about the ways they could offer value to their customers by utilizing mobile technology. At this point, the question should be how, not if, companies can use mobile trends to bring value to their customers. In order to ensure that their mobile strategies become successes, companies need to adopt the 360-degree mobile strategy and include mobile in every aspect of the business.
Is mobile included in your overall online strategy? What are the ways you could make life easier for your customers by using mobile technology?