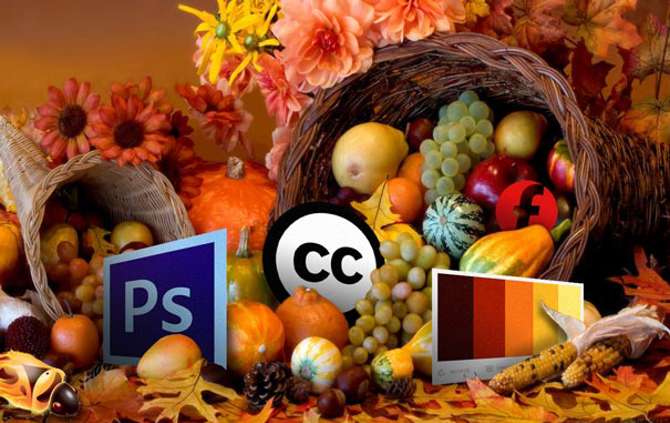 The best thing about Thanksgiving dinner is the variety of food on the table. From sweet potato casserole, to cranberries to a deep fried turkey, everyone always has a favorite dish. It is no different here at Aztek. While each designer is different, all of us have resources that make our jobs a little easier or give us that extra boost of inspiration to help us produce websites that attract users and give them an experience that helps you accomplish your business objectives.
I asked the team here at Aztek to share some of their "go-to " resources:
Design Resources We Love
Adobe Photoshop:
Even though there are some hardcore web designers to regularly call for the death of Photoshop (at least in the creation process of responsive web design), we still can't get through a day without Adobe's super powerful flagship product. People can say what they want about how static comps have no place in a responsive process, but I can "sketch" faster in Photoshop than I can on paper.
Colour Lovers:
The best starting point on the Web for color palettes and patterns. Even if you're not a designer.
Creative Commons Search
You can't steal images from a Google images search (it tends to violate copyright laws), so this is the next best thing. There are millions of good images out there that are free to use (with proper attribution of course). Creative commons helps you find them and stay out of legal trouble at the same time.
Text Fixer:
Forgive the goofy spelling because this tool will solve many of your common text woes. Easily change text from upper to lowercase, alphabetize it, remove extra spaces, get word counts, and even encode HTML characters. Free.
jQuery:
Most users never really notice, but on nearly any modern website you visit, JQuery is what's making it work so awesomely. JQuery makes JavaScript easy, fast, and powerful.
Unheap:
As if JQuery wasn't easy and awesome enough, Unheap takes it a step further and gives web designers a super powerful toolbox of JQuery based plugins for effects, interactive interfaces and more.
Fonts.com:
Before web fonts, your web designer jumped through some pretty awful hoops to get your company's official font on your website, often with some terrible results in load time and search engine performance. Using web fonts means your website can come in more fonts than just Arial, Verdana, Times or Georgia.
Smashing Magazine: Hands down the best industry magazine for anything web related; Code, design, even the business side of web design.
Feedly: When Google Reader shutdown, Feedly became the haven for all those alienated RSS refugees. And it turns out Feedly is an awesome replacement for your old RSS reader. This is how we stay current with all our web and design industry topics. 
Creattica: An impressive source of design freebies and inspiration, even for "non-web" types.
Modernizr: Not all browsers can handle HTML5 and CSS3, but you really want to use it on your project. Modernizr help those old browsers kinda limp along with the new.
Firebug:
All projects have bugs to be squashed and Firebug makes finding them and squashing them faster, saving your project many valuable hours and ensuring a better outcome.
Google Docs:
Not satisfied with being the world's biggest and best search engine, Google had to offer their own free web based competitor to Microsoft Office. You can share documents to edit without worrying about changes being lost, missed or over-written. This example only scratches the surface of Google Docs' capabilities.
Flat UI:
There's no disputing that "flat design" has made a big splash this year and this site gives designers a starter kit to incorporate the flat look into a project.
Being web designers, we are constantly discovering new sites that inspire, help and push us to be better. We love finding new resources which will help us bring a new idea or solution to the table for your project.
With all these great resources, it's time to kick back and enjoy the informational-overload equivalent of a food coma.  We wish you and yours' a very Happy Thanksgiving! 
What resources or websites inspire you? Comment below!