Millions of people use Google every day to find information, purchase products and locate places/services around the cities and towns in which they live. Actually, one out of five Google searches are related to location. Google Places is a free service that allows businesses to add and verify their business information.  This helps ensure that your business appears in the Google search results when a user conducts a relevant local search. Not only is it free to claim your business on Google it is also easy to update and manage your listing as often as you like moving forward. As this service matures, even more options are becoming available to business owners. This includes the option to add photos, videos, customer reviews and other essential facts as well as offer real-time updates, specials, and coupons.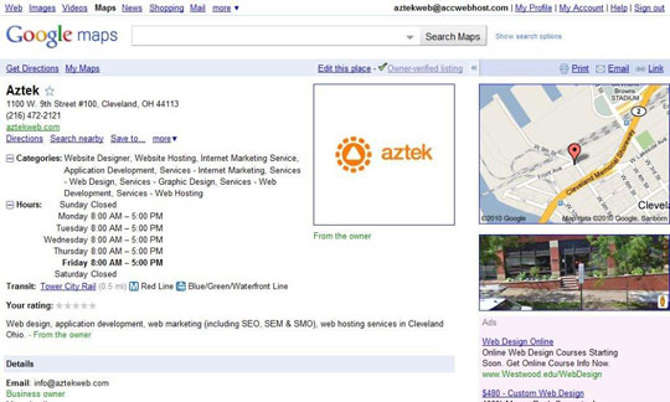 Google Places makes it easier for people to find the best places to go where they are at any given time. Four million businesses have already claimed their Place Page on Google- have you? Don't be left out on this opportunity. There are numerous benefits of participating in Google Places. These include:
Reach millions of Google users (aka potential customers) quickly and for free. Think about how you find information about a business or service in your own life- do you use the Yellow Pages or do you search online? That's what I expected. More people choose to search for businesses online than anywhere else. That is why it is essential for your business to be found easily on Google.com and Google Maps. Creating a listing within Google Places will help you achieve this.
Google Places is practical and very simple to use. Not only will a listing on Google Places help your online presence, you can set up the listing in minutes. If you don't have a website for your business, creating a quality listing can help overcome this barrier since Google Places can generate some presence on the search result pages.
There is an immense amount of customization and enhancement options that you can choose to add/use in your listing. These additions include: photos, videos, hours of operation, coupons, product offerings and more. Google continues to add to these choices with real time updates, advertising options, customized QR codes, and its Favorite Places program.
Get personalized reports outlining how your business listing is performing on Google. You don't have to guess if your business listing is attracting clicks and customers. The available data includes how many times people have found your business listing, what keywords they used to find you and what areas people traveled from to visit your business. Using this dashboard, businesess can also determine how adding additional features such as video or photos to their listing is affecting results. More data=more informed business decisions about how to interact with your current and potential customers on Google.
It is very easy to get started, just visit places.google.com/business. If you have been putting off adding your business to Google Places, don't procrastinate any longer. It's free and can only help your business- all you need is a Google account and a few minutes.