Do you know if your website is serving your customers correctly? Are they finding what they need or quickly looking elsewhere? And how exactly are they even getting to your website, anyway?
You may already know that Google Analytics is a comprehensive tool that allows website owners to analyze all of this information. The question is: have you used it to its full advantage? Are you using the data available in Google Analytics to optimize your website and make tweaks to your digital marketing plan? After all, wouldn't you want to know if the valuable dollars you're putting into digital marketing are creating any return on investment? Of course you would. So why isn't everyone taking advantage of a free marketing tool that will let you know exactly what your target audience is doing on your website? The problem is Google Analytics provides a lot of information for marketers with too little time. So, take a deep breath, let's break down the basics of where to start for you G.A. beginners out there:      
1. Identify Your Business Goals
Is it an e-commerce site and your goal is revenue from your site? Are you focusing on lead generation? Pinpointing why your website is important to your overall business growth will allow you to narrow down what data is important to you. For example, if you're looking to have your customers make a purchase on your website, but you see that a high number of visitors abandon the checkout process and never complete their purchase.This may mean that your checkout process is too lengthy or confusing for buyers and deserves a second look. In Google Analytics terminology, you may want to look at e-commerce conversion rate, sessions to transactions, or funnel visualization. As for lead generation, you would want to set up goals to track form completions properly, so you can monitor the quality of traffic you're driving to your site. 
2. Educate Yourself 
Keeping the business goals in mind from step #1, educate yourself. Google Analytics offers a great in depth free course. And here are a few other resources that our Google Analytics wizards have found to be really helpful:
3. Build Dashboards to Show Your Most Valuable Data

For those starting out in Google Analytics, one of the most daunting tasks is determining which reports will provide you the most value. As you become more familiar with the tool (see #2), you may want to take some time to create custom dashboards. And it's much easier than you think. I would start with using the templates Google Analytics provides and make updates based on your business goals. Ask yourself, what are your most important metrics of success? What is great about these dashboards, is you can set them up to send to anyone's email address on a consistent basis. I would recommend definitely including widgets for the following and getting more granular as you go:
Overall Sessions
Sessions by Channel
Sessions by Landing Page
Goal Completions
Goal Completions by Source / Medium
Transactions and/or Revenue
Transactions and/or Revenue by Source / Medium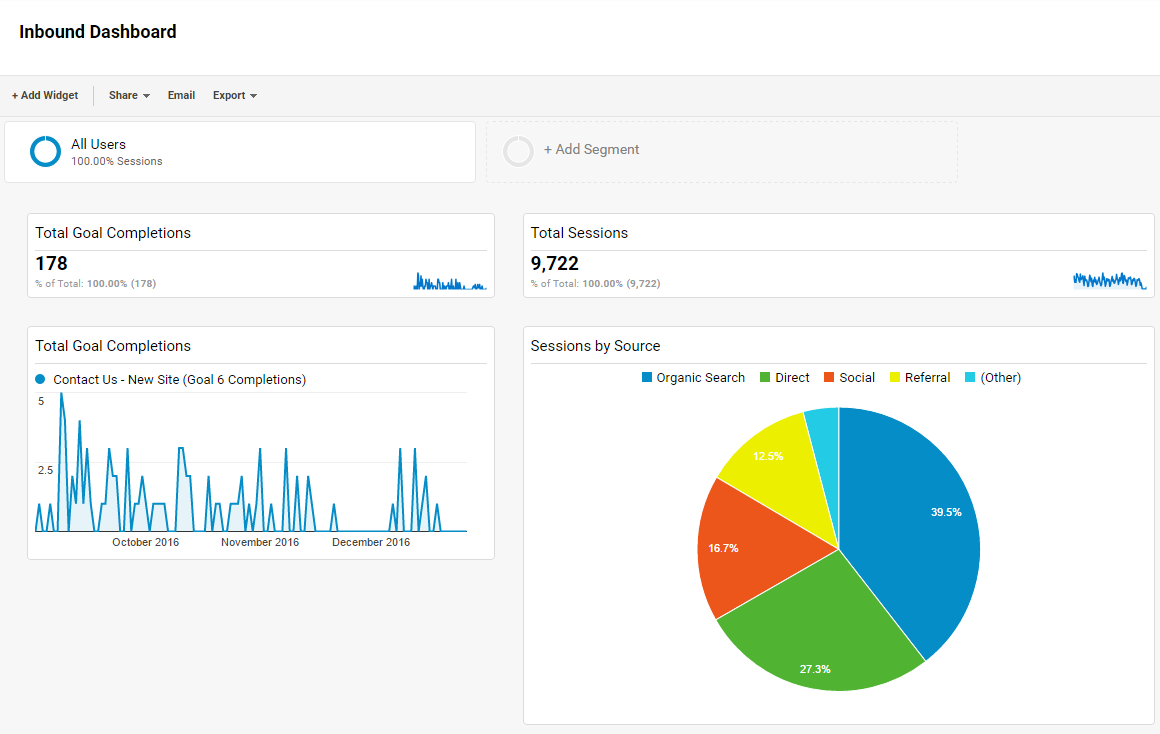 4. Be Prepared to Change 
Change is never easy, but there will always be something your website could be doing better for your visitors. Google Analytics will give you the data, and it is up to you as a digital-savvy professional to interpret it and use it to your advantage. If the advertising campaigns via social media are working wonders to drive quality traffic to the site, then spend more of your budget there. The data is nearly real-time and you should be ready to make big or small changes in real-time as well.
Hopefully this helps you on your way to becoming a Google Analytics pro! If you have any specific questions on getting started, send us a message.