Do you know if your website is serving your customers correctly? Are they finding what they need or quickly looking elsewhere? And how exactly are they even getting to your website, anyway?
You may already know that Google Analytics is a comprehensive tool that allows businesses to analyze all of this information. The question is, are you using the data available in Google Analytics to optimize your website and make tweaks to your digital marketing plan?
Often, it can be challenging for marketers to leverage Google Analytics data to the fullest. That's why we created this beginner's guide to help you get started using the platform and its reporting features to help you make stronger, more informed business decisions.
How to Set Up Your Google Analytics Tracking Code
If you already have a Google Analytics account set up, then you can use the login information for the email address your analytics are tied to in order to access Google Analytics. However, if you've forgotten or don't know your login information, you can try one of these methods to re-gain access:
1. Contact Google For Help. Before contacting Google, be sure you have:
Once you have the information, you can call Google AdWords (1-866-246-6453) to start the process, or start by filling in information online.
2. Setup a New Account. This would be the least ideal option because you would have to re-install the Google Analytics JavaScript on your website and would lose previous data. However, there's always an option to start a fresh account if you're still unable to access your account.
If you don't have Google Analytics on your site yet, don't worry. It's easy to install. Just follow these six steps:
1. Make sure you have a Google account. If you have a Gmail account, you automatically have a Google account. If you'd like to register your business email as a Google account, you can create your account here.
2. Stay signed in to your Google account and go to www.google.com/analytics.
3. Click on "Access Analytics" at the top-right corner of the page.
4. You will be taken to the New Account page. Simply enter the information and select the "Get Tracking ID" button at the bottom of the page.
5. On the next page, you'll be able to see your tracking code. Just copy that code and paste it in the </head> section on every page of your website.
6. You should see the website data within 24 hours.
How to Add an Account Administrator
When you work with multiple team members or partner with a digital marketing agency, you'll likely need to add additional administrators to the account. Follow these five steps:
1. Log in to the original Google Analytics account
2. In the top navigation, click on "Admin"
3. On the next page, under the Account column, click on "User Management"
4. In the "Add permissions for" field, enter the email address that you want to use to access the account. Note that this email must be registered with Google.
5. In the dropdown, select "Manage Users, Edit, Collaborate, Read & Analyze"
You have just given the new user complete access to your company's Google Analytics account.
Create Google Analytics Reports
For those starting out in Google Analytics, one of the most daunting tasks is determining which reports will provide you the most value. (Here are five reports we believe can be helpful.)
Start by identifying your business goals. For example, revenue may be the goal of an e-commerce site. Or perhaps you want to focus on lead generation to fill your sales funnel. Pinpointing how your website is used to drive overall business growth will allow you to hone in on the data that's most important to you.
Next, identify the metrics, or key performance indicators that will measure the success of your efforts to meet those goals. For example, if your goal is for customers to make a purchase on your website, then you may want to track your e-commerce conversion rate, sessions to transactions, or funnel visualization, or in other words, see how many people abandon cart. This data can lead you to optimizing your purchase process, perhaps by removing unnecessary steps or simplifying the process.
Some common digital marketing KPIs to consider include:
Overall Sessions
Sessions by Channel
Sessions by Landing Page
Goal Completions
Goal Completions by Source / Medium
Transactions and/or Revenue
Transactions and/or Revenue by Source / Medium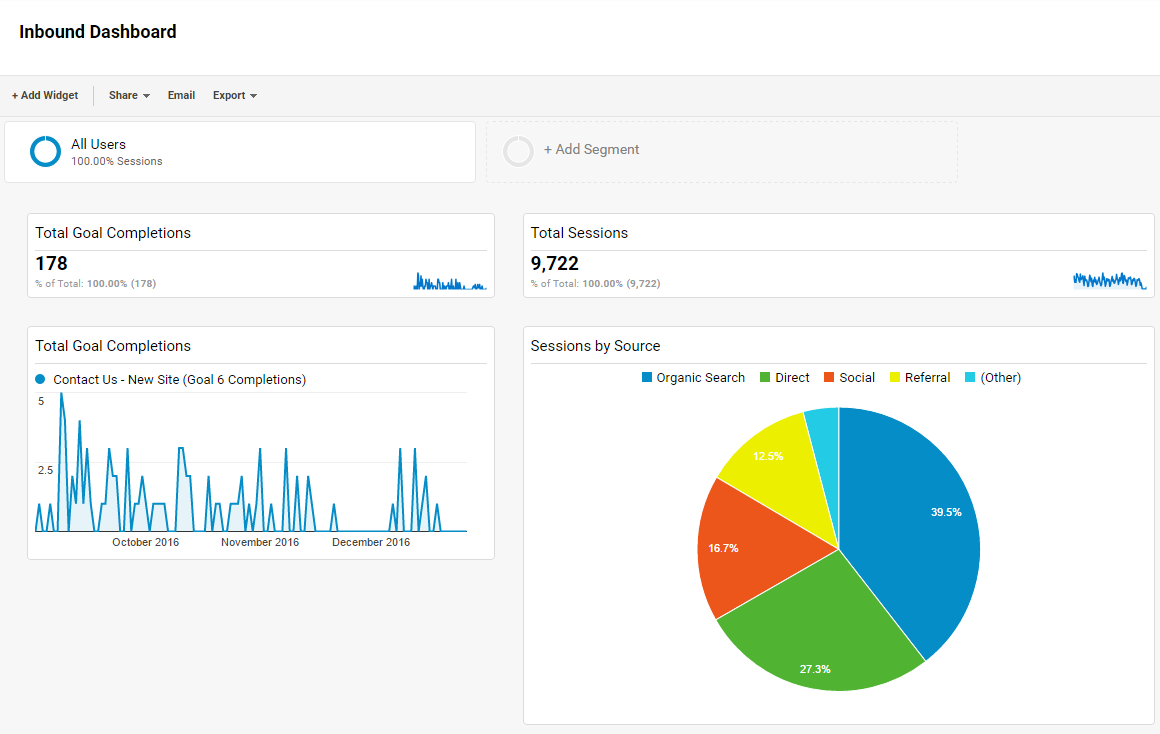 Want to learn more Google Analytics offers a free online courses for marketers to learn about Google's measurement tools. You can also check out Moz's Absolute Beginner's Guide to Google Analytics and Neil Patel's How Google Analytics Dashboards Can Make Your Life Easier to learn more.
Still Need Help? Find a Google Analytics Agency.
Google Analytics will give you the data you need to grow your online presence. But it's up to you to interpret that data and use it to your advantage.
Need some help? Aztek can help answer your web analytics questions and identify opportunities for data collection within your digital marketing campaign. We'll partner with you to set realistic expectations and make informed business and digital marketing decisions. As a Google Analytics certified agency, our full team of digital marketing experts take into account everything from search engine optimization to user experience to lead conversion. Contact us today to start a conversation.